Wojciech Zieliński
presents
Perfect Girls & Friends Orchestra
October 2009 was a crucial time in my life. It was the year that I decided to begin a new artistic project, something that I had been thinking about over a number of years. This artistic project has now taken shape as an orchestra differing in its musical style from your usual 'philharmonic' orchestra. It is hoped that my orchestra (I use the word "my" as we are dealing with a completely "private" entity) will fill the vacuum that was created after the annihilation of the light music orchestras which were previously under the auspices of Polish Radio and Television.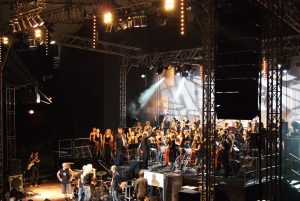 My 30 year career in the music business as a composer, arranger, conductor, producer and instrumentalist have made me something of a perfectionist, and I expect this same perfectionism from my hybrid orchestra. This orchestra is comprised of 60 musicians, who form the symphonic core so to speak, plus a rock-jazz sextet and a trio of female singers. The first thing you notice about this orchestra is that 85 percent of the musicians are young attractive girls. However, more importantly they are excellent musicians in their own right. This female percentage was not an accident on my part. My feeling is that women are highly underestimated in the music business, but that they are in many cases musically superior to their male colleagues. They tend to be more reliable as well as opening up an undeniable aesthetic world of musical experience for the listener. The female collective in my orchestra is an interesting and remarkable set of people. They have decided to form a community that cares about the future of this project.
The professional life of our orchestra will take two clear paths. The first is to include the Perfect Girls 'n' Friends  Orchestra in a project that already exists, and in which I actively participate, the PERFECT SYMFONICZNIE or the CHOPIN SYMPHONY JAZZ PROJECT. The second path is to promote the orchestra as a so-called "headline" act, having its own programme and style, and not simply playing accompaniment as an "unknown" ensemble. I am now preparing an orchestral programme that presents a broad range of stylistic music which should quickly become the main focus for the orchestra. I am including classical music, but arranged in a contemporary style with elements of improvisation, in new "grooves". I am also proposing compositions and arrangements within different genres of music from jazz, funk, rock and progressive rock to chillout, ambient and world music. The orchestral programme will also include works from around the globe, but particular attention will be paid to native Polish creations.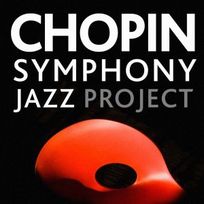 In our prevailing activities we have realized some noteworthy events. The most important one was the recording of the CHOPIN SYMPHONY JAZZ PROJECT (March/April 2010) where our orchestra played together with WARSAW PARIS JAZZ QUINTET consisting of the "cream" of jazz musicians from Poland and France. The record had its premiere in the end of May 2010 in the EMPIK network of shops, while receiving excellent reviews on our record market.
On 24th of July 2010 in Płock the orchestra performed with great success and enthusiastic reception (standing ovation) from the large audience of more than 3 thousand people. It was its first concert played with the famous PERFECT group, which does not need to be specially commended or introduced. At the same time that event was the symphonic opening of the group hence the name PERFECT SYMFONICZNIE.
On 11th of September 2010 at Saska Kępa in Warsaw the orchestra played its spectacular concert entitled POKOLENIE POLSKIEGO JAZZU (The Polish Jazz Generation). The concert was also a promotion of fragments from our record CHOPIN SYMPHONY JAZZ PROJECT which is our jazz homage to the bicentenary of Chopin's birth. Apart from that we presented the selection of Polish songs performed by Aga Zaryan, Ewa Bem, Lora Szafran, Kuba Badach and Marc Thomas with excellent accompaniment of our orchestra. The concert took place in open air at Paryska street, where multi-thousand audience rewarded us with undeniable and long-lasting applause.
Wojciech Zieliński
Artistic Director