– born in Józefów, Poland, on 15 February 1955, graduated from the Frederic Chopin Musical Academy in Warsaw, where he studied in class of composition headed by assistant professor Zbigniew Rudziński.
Since 1976 he is involved in musical cooperation with Polish Radio and Television. Since 1998 he has his class of arrangement in the Post-Diploma Jazz Studium at the Bednarska street in Warsaw and since 2002 he leads special, jazz-entertainment hearing shaping course at the Frederic Chopin Musical University (the former Musical Academy).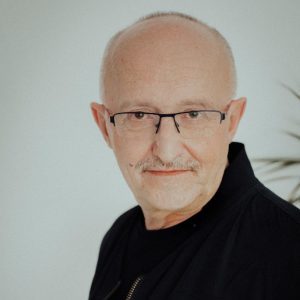 The Artist is the laureate of many prizes, among the others the second (first was not granted) in the Polish Arrangers Competition (1978), distinctions, prizes for arranging together with Hanna Banaszak in the "Premieres" concert on the 19th Polish Songs Festival in Opole (1981) for the song "Ja dla pana czasu nie mam" (Wasowski/Przybora), the third prize in the Polish Radio Contest for the electronic composition, the second prize (first was not granted) in the Tadeusz Baird Composers Competition of the Young Composers Circle (1990), first prize in the Composers Competition ZAiKS, ZKP and Young Composers Circle launched in the 120 anniversary of Karol Szymanowski's birth for the composition Światła Ziemi (The Lights of Earth) with texts written by Mieczysława Buczkówna for soprano, guitar, harp, harpsichord and percussion (2003).
Wojciech Zieliński writes jazz instrumental music and light music, songs, classical music as well as music for film and theatre. In 1998 he recorded his author's record The Heart of Spider with jazz stylistics.
He arranged about 1600 published pieces. Played or sung by, among the others, Felicjan Andrzejczak, Hanna Banaszak, Ewa Błaszczyk, Ewa Bem, Ewa Dałkowska, Andrzej Dąbrowski, Halina Frąckowiak, Edyta Geppert, Krystyna Janda, Robert Janowski, Anna Maria Jopek, Wojciech Karolak, Jan Kobuszewski, Marian Kociniak, Małgorzata Kożuchowska, Ewa Kuklińska, Natalia Kukulska, Grzegorz Markowski, Alicja Majewska, Dorota Miśkiewicz, Henryk Miśkiewicz, Włodzimierz Nahorny, Marian Opania, Jerzy Połomski, Danuta Rinn, Maryla Rodowicz, Ryszard Rynkowski, Irena Santor, Tomasz Stańko, Katarzyna Skrzynecka, Hanna Śleszyńska, Lora Szafran, Krystyna Tkacz, Zbigniew Wodecki, Zbigniew Zamachowski, Andrzej Zaorski, Wiktor Zborowski, Artur Żmijewski and many groups like Alibabki, Exit, Polish Radio Studio S-1 Orchestra, Perfekt, Vox.
As a conductor, arranger and instrumentalist he worked with films, among the others, "Deszczowy Żołnierz", "Ekstradycja II", "Boża podszewka I", "Boża podszewka II" with music composed by Jerzy Satanowski, "Bliskie spotkania z historią", "Szansa na życie", "Dom Muratora", "Osiemnaście", "Bieszczadzki Park Narodowy" with his own music and theatre spectacles "Casanova" with music written by him and Jerzy Satanowski, directed by Maciej Wojtyszko, "Mojżesz i Katarzyna" – Wojciech Zieliński's music, directed by Adek Drabiński, "Ściana Artura" with his music, directed by Laco Adamik, "Stepping Out" – his music, directed by Krzysztof Jasiński.
He also was awarded in the Second Touristic Films Festival in 2007. The artist was musical director in many projects, among others: "Mikrofon dla wszystkich" (Microphone for All) (First Program of Polish Radio, 2001), "Chicago" musical (Komedia Theatre in Warsaw, 2002), "Sztuka kochania czyli serdeczne porachunki" (Teatr Na Woli theatre in Warsaw, 2003), "The Threepenny Opera" musical (Syrena theatre in Warsaw, 2004), "Stepping out" musical (Komedia theatre in Warsaw, 2006), "Dobranoc panowie" spectacle (Agnieszka Osiecka Atelier theatre in Sopot, 2007), "Gąsowski, Kiljan, Rozmus, Śleszyńska czyli miłosny wielokąt" spectacle (Sztuka Słowa Festival), "Czy to jest kochanie?" spectacle in Elbląg, 2008, "Kram z piosenkami" musical (Syrena theatre in Warsaw, 2008) and cooperated with the EXIT group, VOX vocal group, Hanna Banaszak, Maryla Rodowicz ensembles, and Perfect group.
Wojciech Zieliński is also a musical producer of various projects like Maryla Rodowicz "Marysia Biesiadna"  (1995), Zbigniew Wodecki "Zbigniew Wodecki" (1995), Maryla Rodowicz "Złota Maryla" (1996), Danuta Rinn "Jeszcze Jestem" (1998), Wojciech Zieliński The Heart of Spider (1998), Perfect "Perfect Symfonicznie" (2002), Maryla Rodowicz "Życie ładna rzecz" (2002), Tomasz Stockinger "Miłością wracasz do mnie" (2003), Olga Bończyk and Dariusz Kordek "Sztuka kochania czyli serdeczne porachunki" (2004).
Considerable and worth of noting is Wojciech Zieliński's musical arrangement of the Great Agnieszka Osiecka Song–Book (10 volumes), which was prepared using the Sibelius software and was published during last few years by the PWM – Polish Musical Publishing House.
In last time Wojciech Zieliński acts as a conductor in the PERFECT SYMFONICZNIE concerts which promote the CD of the same name. During creating this CD Wojciech Zieliński played a role of both composer and arranger.